Happy Saturday all!
Excited to share with you today my review for this entertaining story! I listen to this on audio and I think the audio made it an even better book!🎧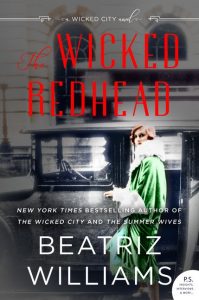 My Thoughts
Beatrix Williams has spun an entertaining story. This is the second book in the wicked City series. I thoroughly enjoyed this book, however I do think not having read the first book detracted from my enjoyment a little. I had a hard time getting into the story and I think that's because I did not know the character's background. I love feisty female characters, I love books that take place in the 20s, and I love books set in multiple time periods. This book had all three and more. The book starts in 1924 with Ginger down in Florida having run from danger and tragedy that happened in New York in the previous book. The story than a bounces to 1998 and Ella who has just left her husband and is living in an apartment that is situated over the speakeasy where ginger once worked. Ginger's presents is still very strong in the building and Ella is intrigued. What follows is a story filled with scandal, danger, secrets, lies, love, Family, blackmail, and deceit. I have to admit I found the 1998 storyline a little more compelling, however Ginger was such a wonderful character. I also loved the little bit of mystery and what tide Ella and ginger together. I'm excited to see how everything is going to play out in the last book in the series.
This book in emojis. 🛥 🏖 🍸 🎷 👩🏻‍🦰
🎧🎧🎧 The audiobook was narrated by Dara Rosenberg and Julie McKay. I love when books told from multiple perspectives are narrated by different narrators. I also thought both these narrators gave such authenticity to the character and time period that they were narrating.
*** Big thanks to William Morrow and Harper Audio for my copy of this book ***
• Paperback: 432 pages
• Publisher: William Morrow Paperbacks (December 10, 2019)
The dazzling narrator of The Wicked City brings her mesmerizing voice and indomitable spirit to another Jazz Age tale of rumrunners, double crosses, and true love, spanning the Eastern seaboard from Florida to Long Island to Halifax, Nova Scotia.
1924. Ginger Kelly wakes up in tranquil Cocoa Beach, Florida, having fled south to safety in the company of disgraced Prohibition agent Oliver Anson Marshall and her newly-orphaned young sister, Patsy. But paradise is short-lived. Marshall is reinstated to the agency with suspicious haste and put to work patrolling for rumrunners on the high seas, from which he promptly disappears. Gin hurries north to rescue him, only to be trapped in an agonizing moral quandary by Marshall's desperate mother.
1998. Ella Dommerich has finally settled into her new life in Greenwich Village, inside the same apartment where a certain redheaded flapper lived long ago…and continues to make her presence known. Having quit her ethically problematic job at an accounting firm, cut ties with her unfaithful ex-husband, and begun an epic love affair with Hector, her musician neighbor, Ella's eager to piece together the history of the mysterious Gin Kelly, whose only physical trace is a series of rare vintage photograph cards for which she modeled before she disappeared.
Two women, two generations, two urgent quests. But as Ginger and Ella track down their separate quarries with increasing desperation, the mysteries consuming them take on unsettling echoes of each other, and both women will require all their strength and ingenuity to outwit a conspiracy spanning decades.

Purchase Links
About Beatriz Williams
A graduate of Stanford University with an MBA from Columbia, Beatriz Williams spent several years in New York and London hiding her early attempts at fiction, first on company laptops as a communications strategy consultant, and then as an at-home producer of small persons, before her career as a writer took off. She lives with her husband and four children near the Connecticut shore.
Find out more about Beatriz at her website, and connect with her on Facebook, Twitter, and Instagram.