Happy Monday y'all!
It is the best time of the year! Summer reading time! Excited to share my review for this charming story that made me want to pack up and move to the south and become a beekeeper! Thank you so much Trish for my invitation to this tour!🐝🐝🐝
My Thoughts
ᴄʜᴀʀᴍ. ᴡɪᴛ. ᴡᴀʀᴍᴛʜ.
Dorothea Benton Frank has crafted a delightful story bursting with the perfect amount of heart, quirk, and southern charm. Holly is 30 and she still lives at home caring for her unappreciative mother who is a bit of a hypochondriac. Holly is certain she will eventually land her dream job as a teacher at Sullivan's Island elementary school. She is also certain that she plays an important part in the lives of the two little boys that live next-door, and a little less certain that she will ever capture their fathers heart. Not only is Holly busy taking care of others, but she is also a beekeeper. Holly not only cares for the bees, but she also has a special bond with them. Holly's sister Leslie left the island as soon as she could needing to escape their demanding mother the "queen bee". But there have been big changes in Leslie's life and she finds herself returning home. What follows is a Beautiful story about two sisters and their mother who reconnect, regroup and grow together.
Loved this book! The setting of Sullivan's Island was so lovely. The author grew up on the island and her love and knowledge of this charming place really shown through. The characters in this book were so wonderful, so colorful, and so well-developed. I felt as though I would know them if I were to run across them walking down the street. Not only that I'd want to spend the day with them, shoot I'd even love to see those bees. And the food, can't forget that. I'd love for Holly to invite me over for dinner and feed me some of that good old southern cuisine. Holly was a fantastic character and I loved her growth throughout the story. She was so good with Hunter and Tyler and I really adored those kids! Loved all the little bee fax that she told them at the beginning of each chapter. I really actually learned a lot about bees that I did not know. Holly's mom "the queen" was a very colorful character and I really loved the direction that her character took throughout the story. Leslie oh Leslie I am still not certain about some of your choices.
This really is the perfect book to kick off your summer with! A beautiful setting, amazing characters, and a fun storyline with a lot of heart. There were several laugh out loud moments. This book certainly took a turn I was not expecting. A wonderful uplifting feel-good story that will put a smile on your face.
🎧🎧🎧 Shannon McManus is the perfect narrator for southern fiction. She does such a good job with all the voices I really love her male voice and her little kid voices as well. There is something so warm and friendly about Shannon's voice that really adds a little something something to these heartwarming books!
*** Big thanks to William Morrow and Harper Audio for my copy of this book ** *
About the Book
Immerse yourself in the enchanting world of New York Timesbestselling author Dorothea Benton Frank's Carolina Lowcountry in this evocative tale that returns at long last to her beloved Sullivan's Island.
Beekeeper Holly McNee Kensen quietly lives in a world of her own on Sullivan's Island, tending her hives and working at the local island library. Holly calls her mother The Queen Bee because she's a demanding hulk of a woman. Her mother, a devoted hypochondriac, might be unaware that she's quite ill but that doesn't stop her from tormenting Holly. To escape the drama, Holly's sister Leslie married and moved away, wanting little to do with island life. Holly's escape is to submerge herself in the lives of the two young boys next door and their widowed father, Archie.
Her world is upended when the more flamboyant Leslie returns and both sisters, polar opposites, fixate on what's happening in their neighbor's home. Is Archie really in love with that awful ice queen of a woman? If Archie marries her, what will become of his little boys? Restless Leslie is desperate for validation after her imploded marriage, squandering her favors on any and all takers. Their mother ups her game in an uproarious and theatrical downward spiral. Scandalized Holly is talking to her honey bees a mile a minute, as though they'll give her a minute, as though they'll give her a solution to all the chaos. Maybe they will.
Queen Bee is a classic Lowcountry Tale—warm, wise and hilarious, it roars with humanity and a dropperful of whodunit added for good measure by an unseen hand. In her twentieth novel, Dorothea Benton Frank brings us back to her beloved island with an unforgettable story where the Lowcountry magic of the natural world collides with the beat of the human heart.
Purchase Links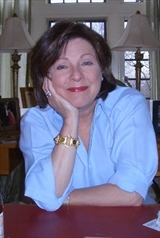 Photo by Debbie Zammit
About Dorothea Benton Frank
New York Times bestselling author Dorothea Benton Frank was born and raised on Sullivans Island, South Carolina. She resides in the New York area with her husband.
Find her on the web at www.dotfrank.com, or like her on Facebook, Twitter, or Instagram
Let's Connect!
Have a magnificent day!🌼
Berit☀️✨