Happy Memorial Day everyone!
Hope you had a wonderful relaxing day filled with food, family, and of course books! Delighted to share with you today my review for this descriptive story filled with dinosaurs and hope. Thank you so much Trish for my invitation to this tour.🦕
My Thoughts
Anne Valente Took me along on this road trip of discovery with her descriptive writing. Sisters Billie and Rhiannon set out on a road trip mapped buy their mother who insists they take the trip after her death. Billie has just been released after being incarcerated for the past six years and Rhiannon is still coming to terms with no longer being a racecar driver. Their mother has given them a journal with map coordinates and crude drawings that will lead them on a treasure hunt of sorts. Along the way not only will they find the treasures left behind by their mother, but they will also reveal secrets and become reacquainted with one another.
The writing in this book was so descriptive I felt as though I was right along with the sisters on this road trip through the south west. I have driven on a lot of the same roads that these sisters took and I thought the author did a really good job with bringing this area of the US to the pages. Now I didn't necessarily know all the dinosaur stuff going on, and I found that very interesting. The beginning of the book was really compelling, I was really intrigued by the sisters and their back stories. I wanted to know why Billie was incarcerated and why Rhiannon no longer drove race cars. As the book progressed I began to care less. I really had a hard time relating to both of these girls, I could not understand their motivations and if I'm being honest they both seemed a bit self-serving. This is what makes this hard for me to review… On one hand I really liked the concept of the book and the descriptive writing. On the other hand I just found these characters a bit hard to like. Generally I can like or even love a book with characters I don't like. But in this type of book I think I really needed to feel more of a connection to the characters in order to truly love the book. The sisters did get to know each other better throughout the story and I think they really began to repair their relationship, however I didn't see much in the way of personal growth. Having said this I think this might be a case of this not being the right book for me, I think some people will really relate to these characters and for them this will be an incredibly special book! 7/10
*** Big thanks to William Morrow for my copy of this book ***
About the Book
From award-winning author Anne Valente comes this poignant and unforgettable literary novel of two estranged sisters—one, a former racecar driver and the other a recently-released prisoner—who embark on a road trip together to complete the scavenger hunt their mother designed for them before her death.
When Billie is released from a correctional facility in Decatur, her sister Rhiannon is there to meet her, even though the two haven't seen each other in months. Painful secrets and numerous unspoken betrayals linger between them—but most agonizing is the sudden passing of their mother, a renowned paleontologist.
Rhiannon and Billie must overcome their differences as they set off on a road trip west, following the breadcrumb-trail of their late mother's scavenger hunt, a sort of second funeral she planned in her final days. The sisters know the trail will end in Utah at the famous Cleveland-Lloyd Quarry, where their mother spent her career researching dinosaur fossils. But the seemingly endless days on the road the seemingly endless days on the road soon take their toll, forcing Rhiannon and Billie to confront their hostilities and revisit old memories—both good and bad.
As they travel across the heart of America, and as a series of plane crashes in the news make their journey all the more urgent, the two sisters begin to rediscover each other and to uncover their late mother's veiled second life, taking them on an unexpected emotional journey inward—and forcing them to come to terms with their own choices in life.
Purchase Links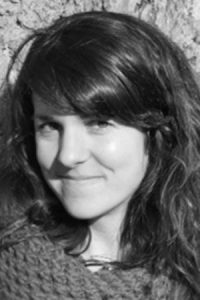 Photograph by Josh Finnell
About Anne Valente
Anne Valente's first short-story collection, By Light We Knew Our Names, won the Dzanc Books Short Story Prize. Her fiction appears in One Story, The Kenyon Review, The Southern Review, and the Chicago Tribune, and her essays appear in The Believerand the Washington Post. Originally from St. Louis, she teaches creative writing and literature at Hamilton College.
Find out more about Anne at her websi
Let's Connect
Have a Beautiful day!🌻
Berit☀️✨