4.5 Crazy WTF Stars ⭐⭐⭐⭐·5
Another late addition to my best of 2018 reads.
Well, Colleen Hoover released another book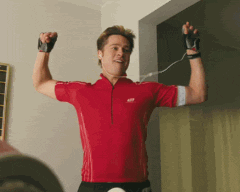 If you don't already know it by now CoHo is the queen of romance, her books (if you haven't read them) always have a romance element to them, even if the story line deals with some heavy (and important) topics, and is one of my absolutely favourite authors.
But then she decides to just move away from the genre that everyone knows and loves, and self publish a psychological thriller, I mean WHO DOES THAT??
COLLEEN FREAKING HOOVER THAT'S WHO!!
This book shouldn't work, looking at her back catalogue, you would expect to find Love, Despair and happiness, all wrapped with a kind of awkwardly placed bow.
But this book WORKS PEOPLE!!!
I'm not sure whether she popped to Tarryn Fisher's house and they somehow managed to have some weird Seance-Ouija board party, where their minds were mixed together, but CoHo went to the dark side people!!
I was really worried about reading this book, I love a Psychological Thriller, and have read some great…and not so great ones, so for CoHo to even attempt to do this deserves a high five.
The Blurb
Lowen Ashleigh is a struggling writer on the brink of financial ruin when she accepts the job offer of a lifetime. Jeremy Crawford, husband of bestselling author Verity Crawford, has hired Lowen to complete the remaining books in a successful series his injured wife is unable to finish.
Lowen arrives at the Crawford home, ready to sort through years of Verity's notes and outlines, hoping to find enough material to get her started. What Lowen doesn't expect to uncover in the chaotic office is an unfinished autobiography Verity never intended for anyone to read. Page after page of bone-chilling admissions, including Verity's recollection of what really happened the day her daughter died.
Lowen decides to keep the manuscript hidden from Jeremy, knowing its contents would devastate the already grieving father. But as Lowen's feelings for Jeremy begin to intensify, she recognizes all the ways she could benefit if he were to read his wife's words. After all, no matter how devoted Jeremy is to his injured wife, a truth this horrifying would make it impossible for him to continue to love her.
My Thoughts
4.5 Crazy WTF Stars ⭐⭐⭐⭐·5
Verity follows the story of Lowen Ashleigh, an author who is hired by Jeremy Crawford, to complete the remaining books in a hugely successful series by his wife, the bestselling author Verity Crawford, who, after an accident, is unable to finish them on time.
Although Lowen is struggling financially, she doesn't feel like she should be the one taking on this monumental task, however when the dollar signs are waved in front of her face, the idea of being able to pay off her debts is too large, and she takes the job.
She is advised to stay at Verity's house for a few days to sort through the outlines and notes for the new books, considering she has never read any of the books by the author, it is a huge task to take on.
Finding years worth of notes and boxes of files in Verity's office, Lowen realises what a massive task this will be…..and then she finds the autobiography!
"What you read will taste so bad at times, you'll want to spit it out, but you'll swallow these words and they will become part of you, part of your gut, and you will hurt because of them."
And that my friends is all I am going to tell you about this book, yes you could have gotten all of this from the blurb, but this is one that you need to go in blind!
I haven't read a book that had me hating every character for a long time, I mean I LOVED them, but Gahh do they have any redeeming qualities…Nope!
You know when you are watching a thriller / horror film, and you start shouting at the TV? The music is taking a turn, and you know something is about to happen, and the BAM, your popcorn goes flying, and your heart starts racing?
THIS is the book that did that to me!
Prepare yourself for a dark, brilliant read.
Vicci
Available on Kindle Unlimited:
Grab your copy here:
Kindle U.S – https://amzn.to/2RsGC1p
Kindle UK – https://amzn.to/2TkJiM0